subscribe
http://feedproxy.google.com/~r/BrickLabs/~3/4Dv7A_ZdgyE/
− at 20:05, 22. Oct. 2014
UPDATE: EVE Online now has a FREE 14 Day Pass!
EVE Online is a Massively Multiplayer Online Game (MMORPG) game that takes place approximately 20,000 years into the future.
You start out in EVE as a new pilot.  You are free to choose your own destiny. You choose your race, and then your role.  Space pirate, miner, trader, mercenary… you pick.  No restrictions.
You can play solo, or join others in a corporation (think clan or alliance).  There is only one world in EVE.  So everyone is there… no picking what server you want to join, hoping to be with your friends. Just join the game, and start playing.  There is also a new pilot FAQ to get you started.
The game is set in an unknown portion of space, spanning thousands of solar systems, many of which are settled. Players begin by creating an in-game character equipped with a basic spaceship ready to explore the world. As they get acquainted with life in EVE, players can trade goods between systems or conduct other money-making ventures such as mining asteroids, transporting goods as a courier or even cleaning up debris for recycling. Financial gains made through such activities can be used to upgrade the ship with weapons and equipment and also to develop the character by purchasing skill packs used for training him or her in various skills he will need to advance in the world of EVE.
When a player has mastered the basics of the game, aquired some money and equipment and advanced his or her character through basic skills, the possibilities become almost endless. Players who wish to explore peaceful paths may continue to upgrade their ships to bigger and better cargo vessels with high-end defenses, purchase advanced mining or research equipment and continue to develop their characters by specializing in their preferred skills. Others may elect to pursue a more dangerous path such as piracy, smuggling or bounty hunting.
The post What is EVE Online? appeared first on Brick Labs.
[original entry]
http://www.ros.org/news/2014/10/call-for-authors-for-a-ros-handbook.html
− at 19:28, 22. Oct. 2014
From Anis Koubaa via ros-users@
I am coordinating with Springer publisher to edit a handbook on Robot Operating System. There are only a few books on ROS http://wiki.ros.org/Books which mainly represent a brief introduction to ROS and a few basic applications. This does not translate the huge amount of work being done in the community and I feel the need to have a complete reference on the topic.
The prospective handbook will cover ROS from foundations and basics to advanced research works from both academia and industry. Tutorials and research papers will both be sought. The book should cover several robotics areas including but not limited to robot navigation, UAVs, arm manipulation, multi-robot communication protocols, Web and mobile interfaces using ROS, integration of new robotic platform to ROS, computer vision applications, development of service robots using ROS, development of new libraries and packages for ROS, etc. Every book chapter should be accompanied with a working code to be put later in a common repository for the readers.
To express your interest to the handbook and your intention of a chapter proposal, I would like to invite you fill in the following form. The proposed chapters are just considered as an initial expression of interest and will be included in the handbook proposal. It does not mean any kind of commitment for the author at this stage. An official call for chapters with instructions and deadline will be announced soon.
Thank you and look forward to receive your feedback,
Anis
[original entry]
http://feedproxy.google.com/~r/ieeespectrum/automaton/~3/1E0kfprw80A/uavs-flex-their-artificial-muscles
− at 15:30, 22. Oct. 2014


Foldable, bendable actuators could lead to foldable, bendable UAVs that you can stuff into your pocket
[original entry]
http://feedproxy.google.com/~r/BrickLabs/~3/ASMFbhZzIgI/
− at 04:51, 22. Oct. 2014
The Ruby Mine
The ruby mine is one of the new features that was recently added.
You have to purchase rubies to acquire the Ruby Mine.   Once you've purchased the rubies, you get the mine.
The mine provides different amount of total rubies, depending on various (currently unknown) factors.
You will receive a small portion of rubies per day, until the mine is empty.  The above screenshot shows 250 rubies a day, until you've earned 90,000 rubies.  That means it will take you 360 days of playing to empty the mine.
At this point, I don't know what happens if you miss a day collecting the rubies.  Do they stay in the mine until you collect them, or do they "disappear" since you missed a day?
The post Empire: Four Kingdoms – The Ruby Mine appeared first on Brick Labs.
[original entry]
http://feedproxy.google.com/~r/BrickLabs/~3/XF37g4KJDG0/
− at 03:57, 22. Oct. 2014
Occasionally you will get an offer like this.  If you purchase rubies (which cost real money), then your Alliance will get an equal amount of rubies as well.  Your Alliance leaders will use those rubies (and other resources donated to the alliance) to expand the alliance.
If you can combine this with a "Purchase Ruby Bonus", then you can capitalize on spending your money.
The post Empire: Four Kingdoms – Ruby Bonuses for your Alliance appeared first on Brick Labs.
[original entry]
http://feedproxy.google.com/~r/BrickLabs/~3/_KpVVQ_7cl4/
− at 01:59, 22. Oct. 2014
Here are some basic strategies Empire: Four Kingdoms.
Defensive troops wear green outfits.   They are sometimes called greenies because of their outfit color in the game.
Attacking troops wear blue outfits.
Specialty troops have other colored outfits, like yellow, brown and red.
Tip 1:  Keep Building Defenses
Never stop building defensive troops.  If you are in the negative food, then it means you need to do one of two things.  Raid RBCs for food… and/or build more farms.  You want 80% defensive troops, 20% attacking troops.
Tip 2: Defend Your Castle First, Ops Second
Keep your biggest defending army at your castle.  Then keep a second defending army at a close op, for support.   Keep your attacking army at an op.  In most cases, attacking an op is considered an act of war.  Most players will not attack an op.
Tip 3: Never Stop Raiding Robber Barons
Your commanders should always be moving.  Either attacking players, or robber barons (RBCs).  This will give you resources and equipment.
The post Empire: Four Kingdoms Tips – General Strategies appeared first on Brick Labs.
[original entry]
http://feedproxy.google.com/~r/TrossenRoboticsBlog/~3/GpjJfs99n_g/
− at 23:36, 21. Oct. 2014
Check out this University of Pennsylvania Bioengineering Student's Senior Design Project using the WidowX Robot Arm. The setup is a mock up as an Robotic Arm Device for Cerebral Palsy Users. The user presses a colored pad and the robot moves a small cube to the corresponding color pad.
This is a great demonstration of how the InterbotiX Robot Arms can be integrated into your own custom project.
[original entry]
http://www.ros.org/news/2014/10/navvis-announces-ros-based-large-scale-mapping-technology.html
− at 22:45, 21. Oct. 2014
NavVis presents new large scale mapping technology: The impressive shipping exhibition at Deutsches Museum can now be explored online and in 3D.
NavVis utilizes a trolley that's equipped with three laser scanners and six cameras. As a human operator wheels that trolley through the area to be mapped, the scanners record the horizontal and vertical dimensions of the hallway while the cameras record panoramas. The software framework is based on ROS, which allowed for a very modular design, as Suat Gedikli, Chief Software Architect at NavVis, says. One of the main advantages of their mapping device is its efficiency: In contrast to Google's mapping trolley, the operator does not have to crouch to move out of the field of view of the panoramic camera. With the patented NavVis camera head, the six cameras are assembled in a way such that the trolley operator is in their blind spot and therefore not visible. Hence 360-degree panoramas can be continuously recorded while moving the trolley.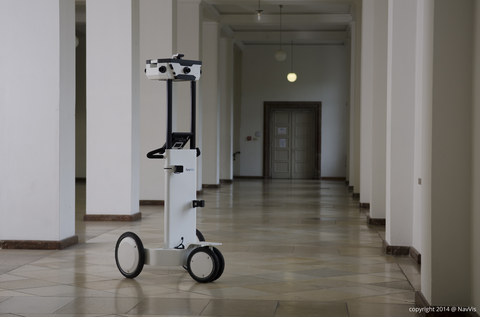 The start-up recently teamed up with Deutsches Museum to digitize their impressive shipping exhibitions, which were mapped in less than one hour. The result is a 3D map of the exhibition, overlaid with photos of every square inch of all the surfaces.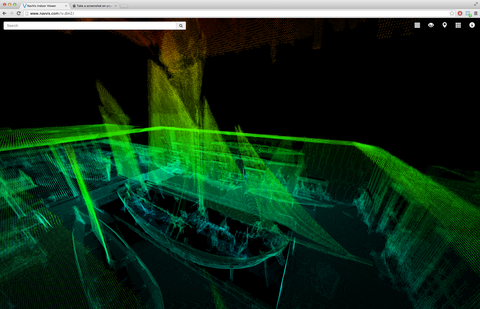 Similar to Google Street View, their HTML5 based IndoorViewer allows people to virtually explore the museum online. Additionally, administrators can add content like text, images, video to various points on the map, which can then be accessed by users. This interactive feature also lets users do things like obtaining measurements between different points in the building (which is important for architects and in construction site monitoring applications).
NavVis, which was only founded in May of last year, is focused on public-oriented showcases and business-to-business applications. Felix Reinshagen, co-founder and managing director: "As the first step, our application is aimed at companies in the building management segment that are confronted with challenges such as documentation, inventory, path-finding and task management. We make our hardware, software and service available to them so that they can have their building and industrial plants digitized while handling the usage of their data according to their own requirements. An area the size of the Deutsches Museum is mapped and posted online within three working days for a four-figure amount."
[original entry]
http://feedproxy.google.com/~r/BrickLabs/~3/PaUEzn9pCvA/
− at 22:14, 21. Oct. 2014
To be a successful attack or defender, you need to understand courtyard bonuses.
Defense:
If you are DEFENDING, you must win at least ONE flank, in order to prevent the attacker from getting a 30% Courtyard Bonus.
If you are able to defend two flanks, then the attacker gets a -30% Courtyard Bonus.
Attack:
If you are ATTACKING, you need to win on at least TWO flanks in order to prevent the defender from getting the 30% Courtyard Bonus.
If you win at two flanks, then you and the defender both get 0% Courtyard Bonus.
If you win at three flanks, then you get a 30% Courtyard Bonus as the attacker.
This bonus is critical in helping the defender (or the attacker).  It can mean the difference between a win, and a painful loss.
Castle Defenses:
Always have 0 – 0 – 100 (or 100 – 0 – 0) for defenses.  You can tailor this to the attack if you are online during the attack.  I'll discuss that in more detail in another post.
Generally, you want your Melee/Range setup as a 70/30 mix.
And ALWAYS go for the best Melee/Range equipment you can put on your attacking commanders, and defending castellans.
The post Empire: Four Kingdoms Tips – Courtyard Bonuses appeared first on Brick Labs.
[original entry]
http://feedproxy.google.com/~r/ieeespectrum/automaton/~3/UmUUB-ij85M/how-to-make-a-steerable-robot-with-just-one-single-motor
− at 15:30, 21. Oct. 2014


One motor does it all for this little bot
[original entry]